I am back with a brand new kit!
It's a kit inspired by the TV show The Vampire Diaries, which is my new addiction and guilty pleasure.
My first kit had to be dedicated to Damon, that hot, sexy, unstable Salvatore brother.
Yes, I am Team Damon forever! lol.
In fact, I have also taken to writing TVD fan fiction. But that's a story for a different blog lol.
This kit is tagger size only, 72 DPI. It has 21 papers and 69 elements. The papers are all 800 x 800.
It's full of goodies you would expect, such as crows, blood splatters, wings, buttons, black roses (from the books), bloody frames etc, but also some special fog filled frames.
If you're Team Damon you definitely can't be without this kit!
You can find it in ANY of my stores, which you can find by clicking on a blinkie on the right under the heading Stores I Sell In.
The regular price is $2.50 but for the month of April you can grab it for only $1.75!!!
Everything else in my store is also on sale for 70% off for the month of April as well!

Finally, here is the preview!
Not everything shown.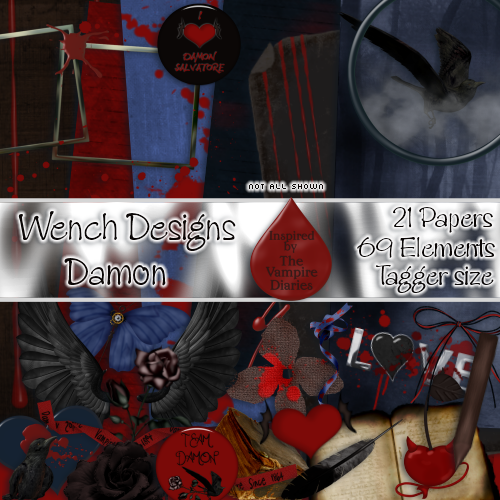 I also made a freebie add on to go with this kit.
It is also tagger size, 72 DPI. There are 4 papers and 8 elements. Papers are 800 x 800.

Here is the preview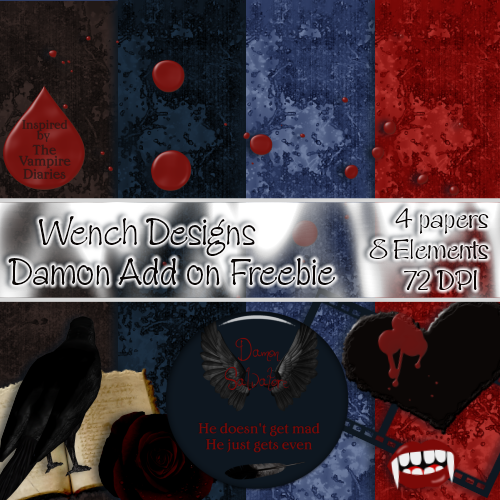 You can grab it HERE
Should open up in a separate tab, or window.

Thanks so much for stopping by!
Hugs
Vella