Wow i got this kit done that was due and in time too LOL.
This kit was made for the starving artist store train.
If you recall, i did this once before with my My Colorful World kit.
There are MANY designers who have also have made kits with the same palette and they are located in several different stores.
All tagger kits are $2 each and full are $3, though my kit is in tagger size only this time because of time constraints.
I also have some tags but i dont have the time to post them, so i might be back later today or tomorrow to post them.

I went with the kitty theme again, this time for Valentine's day!
And there might be more kitty kits in the planning teehee.
This kit will be $2 until Feb 16th...or is it 15th, i dont remember lol
You can purchase it at either The Creativity Box, Stargazer Scraps, Treasured Scraps or Simply Beautiful Scraps.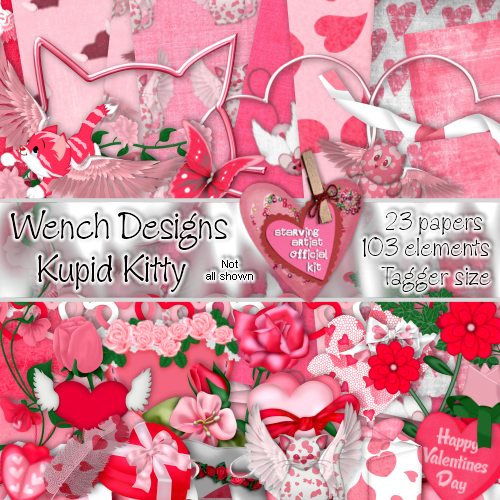 Dont forget to check out everyone else's kit as well while you are there, click on the blinkie on the right to get to the blog about the train, or scroll to my store blinkies to get to where i sell.

Of course, the people in my scrap membership got this for free and before it was released in my stores. *wink*

Have a great day all!

Hugs
Vella