Well i was awarded this awhile back but i totally forgot, im so sorry Melissa. You know how things are, right? lol
I received this award from Melissa at
WDDesignz
Thanks so much hun!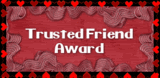 The rules are as follows: Rules of this award, if you receive it Pass this on to 4 of your most trusted friends blogs, then post on their blogs to let them know about the reward. Well i really dont know alot of close friends who have blogs, since most of my friends run in different circles. But i think i can at least nominate a couple of blogs. First of all, i am gonna give it to the one who gave it to me, she was so helpful to me, even if she doesnt realize it, but you were hun. So, here are my choices....
1. Melissa at
WDDesignz
Well as i stated above, she helped me with my beginning in scrapping
2. Lynne at
Baby Cakes Scraps
I emailed her asking her where she learned how to make scraps and unlike some others i have encountered, she replied to me. She is actually my mod in the learning group. She could have ignored me like other people, but she didnt. For that i am forever grateful. So she deserves this award i think.
3. Jo & Jules at
J&J Scrappers
They nominated me for my very first award. They are also very generous and kind. I dont know them well but that small gesture gave me the confidence to continue in this path of scrapping. And since there are 2 of them and i really cant think of anyone else to nominate, i will say thats 4 LOL
I hope this little gesture makes all of your days as well.
Hugs
Vella