My newest kit is called My Treasured Love. I made it using the color palette from Treasured Scraps blog train which will be this Saturday Jan 3rd. I love these colors so much i couldnt stop lol. Its HUGE and i mean HUGE! 54 Papers and 127 Elements! Should be good for all of your Valentine needs. It has alot of elements that can be used for any time of year. I am selling it for $4 at any of my stores, but if you act now, 2 of the stores have my stuff on sale and you can get it for a low price. So check out my store links on the right side there.
Now dont worry, i also have a freebie kit for the blog train as well. I guess i can give you a sneak peek, i know i am bad at holding on to surprises lol.

I am also planning on making some blog layouts with this kit, since there is so much to work with the possibilities are endless. And my poll went ok. Even after combining the Yes and Maybes it doesnt match the Nos but i will try it out and see how it goes. I wont be charging much for the layouts. I know some designers charge like $10 but im only gonna charge $3 i think. It takes me less time to make them than it does a kit and most of my kits are cheaper than that so no biggie lol. I am also gonna be using the kit to make my blog layout cause im sick of Christmas lol.

I had another idea for a poll but now i forget. I have been trying to remember for 3 or 4 days now lol. Oh well, im sure i will remember soon.

I am also thinking of joining a Valentines blog train much like the CATW and the Taggers Train i did for Christmastime. So be on the look out for that too.
Well i think thats it, so now for the previews.

This first one is a sneak peek at my blog train freebie you can come back and get on Saturday.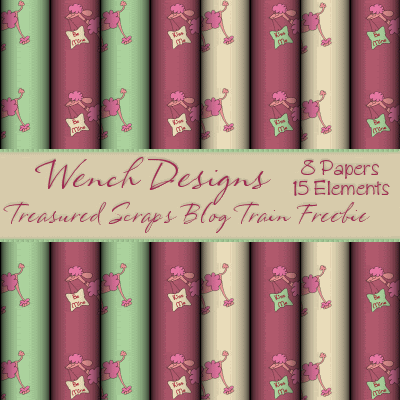 And this is my PTU kit My Treasured Love
Please click on the thumbnail to see it full size, cause you just cant see it right when its small




Thats it for now, Have a great day!

Hugs
Vella